Jack Straws Baskets will be at the Wonderland Summer Festival in Stratford on Avon this week.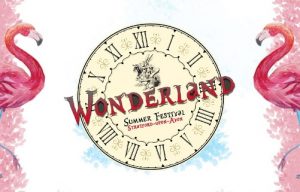 Join in the mad hatters tea party, enjoy delicious street food, speciality coffees and 'drink me' cocktails 'n prosecco.
Intermingle, chat & play giant chess, meet the dormouse, mad hatter, white rabbit, march hare, cheshire cat, the queen of hearts and Alice herself!
Exceptional 3-day family event with additional attractions, boat trips, the Stratford Big Wheel, the Butterfly farm, visit Shakespeare's house.
Give the children a treat during the school holidays that will not break the bank.  Children come dressed in character & join in the fun! Lots of photo opportunities, bring your own picnics if preferred.
WONDERLAND Summer Family Festival & Giant Market! FREE ENTRY for all. Tuesday 7th August 10am to 5pm Thursday 9th.
Fabulous stalls on Waterside & a wonderland of games in Bancroft Gardens (next to the market).
Main stage, music & entertainment Giant market with lots of fab stalls, clothing, jewellery, sweets, fudge and treats, beautiful crafts, pocket money toys, Pimms and lemonade, croquet on the lawn with the Duchess.
Please come alone- we'd love to see you! CV37 6BA.